For many, praise may simply be an opportunity to shout, dance wildly, and "jam" on the instruments, fueled by emotions and feelings. But praise is a gift God affords us and should be fueled by the love we have for our God, and our appreciation and celebration of Him and His glorious power.
The Power of Praise
We should recognize that through praise and worship, we have the power to execute authority over everything that is evil.
Psalm 149 commands us to praise the Lord our God and it reminds us of the power we wield when we praise Him!
In fact, Psalm 149:1 reminds us to: "Praise the Lord! Sing to the Lord a new song, and His praise in the assembly of saints." So, we are instructed by the word of God to praise God together whenever we assemble, because there is power in agreement.
Verses 6 – 9 of that Scripture instructs "God-praisers" to "Let the high praises of God be in their mouth, and a two-edged sword in their hand, to execute vengeance on the nations, and punishments on the peoples; to bind their kings with chains, and their nobles with fetters of iron; To execute on them the written judgment—this honor have all His saints. Praise the Lord!"
This part of the Scripture lets us know what we and our praises have the potential to do when we go beyond the normal levels of praise, by combining our praise with the double-edged sword which is the Word of God! So, that praise is also a part of the warfare we have the authority to wage to defeat the enemy.
Praise signals the battle and sets the stage for the enemy's defeat. (Numbers 10: 14; Judges 20: 18; Joshua 4 & 6) When going out to battle God always sent Judah first, and Judah means "Praise".
Praise boasts of our God and how glorious He is; and it proclaims Him to others, letting them know that He stands and fights for His people, and that He is worthy to be honored above all.
Our praise of the True and Living God, utters a piercing declaration in the spiritual realm that shakes the enemy to the core, and sends confusion into the enemy's camp, reminding the kingdom of darkness that the people who serve the Lord God – the ones they have tried to destroy are still standing, and trusting God, who will defeat the kingdom of darkness completely! Praise is a weapon against the enemy and a powerful tool given to us by God.
The Wealth and Wisdom of Worship
In addition to praise, worship is another invaluable gift God has given us to bring Him honor while He executes defeat upon the enemy.
Worship goes beyond singing a few well-timed, slow songs that we think will please God if we sing in the correct key accompanied by some fancy riffs, runs and deliberate vocal acrobatics. That is not what worship is all about.
In the churches today, we have downgraded the praise and worship of our Almighty God and King of All, to mere entertainment/performance.
Many of today's Praise and Worship Teams, and choirs (Men's, Women's, Youth, Mass etc.) no longer focus on the praising and worshiping of our True and Living God.
It has become an opportunity for showboating, the baring of flesh, and a talent display. So the audience is entertained and God's Presence is not only ignored, but rejected by their actions.
Putting God first in all things honors Him, and that is worship.
So are obedience to God's instructions, submission, servant hood, and honouring those leaders He has allowed to be set over us – including our spiritual and natural parents.
Giving to the Lord – our time, tithes, offerings, gifts, hearts, and our souls are also acts of worship. A renewed mind, the right spirit and a willingness to be holy as He is holy (1 Peter 1: 15 – 16), are required.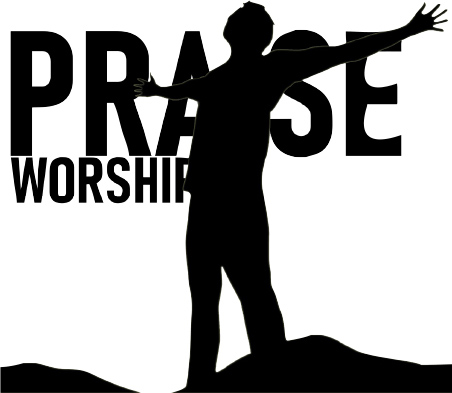 Praise and Worship Brings Change
Praise and worship are powerful God-given weapons in our spiritual arsenal. These two weapons along with the Word of God and the Whole Armour of God can do great damage to the camp of the enemy and bring even greater victories to the people of God!
Praise and Worship can change the atmosphere, and change God's mind as well. (Genesis 8: 20 – 21)
Praise is our sound of victory over the enemy, and worship ushers in the Presence of God, and together the two bring a total defeat upon the enemy and bring great change.
By: Michelle Lyston