Freedom Come Rain Newspaper Vol. 1 Issue 41
By Sylvia Adjoa Mitchell
"Be not conformed to this world but be ye transformed by the renewing of your mind, that ye may prove what is that good, and acceptable, and perfect, Will of God." Romans 12:2
For ground that drinks the rain which often falls on it and brings forth vegetation useful to those for whose sake it is also tilled, receives a blessing from God. Hebrews 6:7
How many ways can you use bamboo? Hmm, let us try and count them. In our first article, we shared how bamboo can be used for health. We will consider other uses today, some of which have been undertaken in Jamaica and others that will be rolled out in due course.
There are various ways that bamboo is used; all of which maintain environmentally conscious practices. Globally, there are over 1500 documented uses. In fact, bamboo is valuable from top to rhizomes – for example as superior material for construction, utensils, fuel, fodder, food, firewood, furniture, mats, kitchen ware, cosmetics, handicrafts, musical instruments, paintings, ecotourism and many more. It is extensively used in the paper and pulp industries.


Bamboo Construction
Portland will soon Unveil Something…
According to UNESCO, 70 hectares of bamboo produces enough material to build 1000 houses. Today, over one billion people in the world live in bamboo houses. Next time you go to Denbigh, have a look at the bamboo house! There is also a wonderful bamboo structure in Portland which will soon be unveiled.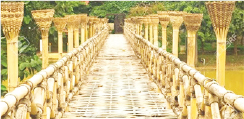 Roads & Bridges
Bamboo is being used in road reinforcements in India and as bridges in China, capable of supporting trucks that weigh as much as 16 tons. Can you see the future?

Scaffolding
It is often used for scaffolding because it proves to be an eco-friendly and cost-effective resource. In Hong Kong, bamboo scaffolding is preferred over metal scaffolding because its easily available and cheaper.

Furniture
Beautiful and intricately crafted beds, chairs and tables are made from bamboo. Furniture has always been bamboo's forte. Many craft items in Jamaica can attest to this.

Rugs & Textiles
Exotic woods like the mango are often used in Oriental rugs. Buying a bamboo rug will ensure that you save a tree.

Paper & Pulp
Pulps are mainly produced in China, Myanmar, Thailand and India, and are used in printing and writing papers. Watch out, a pulp factory is coming to Jamaica!
Utensils & Tableware
Cups and saucers, spoons, ladles, toothpicks, skewers can all be made from this incredibly versatile material. Bamboo straws are being produced in Jamaica.

Music & Accessories
Bamboo is also used to make necklaces, bracelets, earrings, etc. From bags to jewellery, it gives a stylish and eco-friendly touch that's stunning and head-turning. There are bamboo watches, scarfs, belts, and even shoes. Think of it, and you can probably make it from bamboo.

Medicines
In China, ingredients from the black bamboo shoot help treat kidney diseases. Roots and leaves have also been used to treat venereal diseases and cancer. According to reports in a small village in Indonesia, water from the culm (shoots) is used to treat diseases of the bone effectively.

Clothes
Bamboo fibre can be woven into a soft, strong and durable fabric. Clothes made from bamboo fabric are breathable, thermal regulating, will resist odour, is absorbent, hypoallergenic and fast drying.

Food
Young bamboo shoots are used mainly in Asian food preparations. Jamaicans eat bamboo shoots as well (please see my previous article on bamboo as food).
Fuel & other Uses
Mature bamboo culms can be made into charcoal which is more friendly to the environment and less smoky than wood charcoal. Bamboo charcoal also has other uses – as a soil supplement, in masks, cosmetics, bandages, hair products, air fresheners, to make activated charcoal, etc. Bamboo vinegar is extracted when making charcoal and is used for hundreds of treatments in almost all fields. The vinegar contains 400 different chemical compounds and can be applied to many purposes, including cosmetics, insecticides, food processing, and agriculture.
The List is Endless…..Musical instruments (e.g., flutes), fishing rods, rafts, bicycles, helmets, toys, bamboo church organs and bamboo churches! The list goes on and on.
Using bamboo in construction and to make all these various products that last for long periods of time sequesters carbon. This makes bamboo a carbon-neutral and climate friendly activity. Bamboo is the way to a zero-waste and low-carbon future.
In our next articles on bamboo, you will see how you can get involved in this sector; and how science, technology and standards development are assisting to roll out this fascinating sector in Jamaica with care and order for a sustainable future in which we can all partake.
God bless.
References
https://www.inbar.int/wp-content/uploads/2019/12/Bamboo-in-the-Circular-Economy_v3_10.14.20.pdfhttps://www.inbar.int/the-360-degree-bamboo-furniture-business/https://www.inbar.int/a-pathway-out-of-poverty/https://www.econation.co.nz/bamboo/
Dr. Sylvia Adjoa Mitchell; sylvia.mitchell@uwimona.edu.jm; Senior Lecturer, Medicinal Plant Research Group, The Biotechnology Centre, UWI, Mona