Freedom Come Rain Newspaper Vol. 2 Issue 19
By Sylvia Adjoa Mitchell
And God said, Let us make man in our image, after our likeness: and let them have dominion over the fish of the sea, and over the fowl of the air, and over the cattle, and over all the earth, and over every creeping thing that creepeth upon the earth. Genesis 1:26
Peckham, a Small Clarendon Community with a Big Bamboo Footprint
I appeal to you, brothers and sisters, in the name of our Lord Jesus Christ, that all of you agree with one another in what you say and that there be no divisions among you, but that you be perfectly united in mind and thought. 1 Corinthians 1:10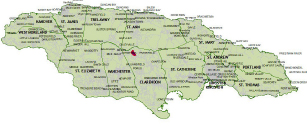 PECKHAM
Can you see Peckham? It is in the middle of the country, in the northern part of the parish of Clarendon. Its total population was estimated at 985 in 2017; and is expanding. A small community, the residents have a big goal: to use the bamboo growing all around them to develop their lives. With the aid of training from Mona Informatics and UWI, the farmers mapped several farms in the area, using a global positioning system (GPS) device and bamboo data (size of clumps, number of bamboo culms per clump etc) was collected throughout Peckham.
Clarendon's capital, May Pen is approximately 25 km away (as the crow flies) from Peckham; while Jamaica's capital, Kingston, is approximately 65 km (as the crow flies) away. However, we are not crows, and the roads, which are constantly being improved, cause one to travel far inland, around, and up and down, many hills to get to Peckham.
HOW DID IT ALL START?
Each community in Jamaica has a Community Development Committee (CDC) and has access to the Social Development Committee (SDC). The SDC is the principal community organization agency working with Jamaica's 775 communities. A CDC is composed of all organisations in a community, such as neighbourhood watches, youth clubs, citizens' groups, and women's groups, among others. These are combined into one umbrella group to discuss development issues, make plans and advocate for positive changes within the community. The Peckham CDC submitted a proposal to the Planning Institute of Jamaica (PIOJ) for a bamboo project in their community. With, I believe, God's help, this request blossomed into a bamboo project funded by the OAS.
BUSINESS INITIATIVES IN PECKHAM
Over the years, there have been several community development and business initiatives in Peckham. As a result of these initiatives, which have resulted in new buildings, equipment, machines and training, they are now able to produce many products from their bamboo. Peckham now has resources that few other communities in Jamaica have. Some of the organizations that have participated in these initiatives, include:
• CDC, SDC, Clarendon Municipal Council, several Ministries of Government
• Bureau of Standards of Jamaica (BSJ)
• Planning Institute of Jamaica (PIOJ)
• The Biotechnology Centre, University of the West Indies (BTC, UWI)
• Caribbean Local Economic Development Project
• HEART/NSTA Trust
• Bamboo Industry Association of Jamaica (BIAJ)
Funders have included:
• Chinese Embassy in Jamaica
• Clarendon Municipal Council
• Organization of American States (OAS)
• National Housing Trust (NHT)
• Environmental Foundation of Jamaica (EFJ)
THE OAS PRE-PROCESSING BAMBOO PROJECT
The Peckham Bamboo Project, funded by OAS, commenced in 2015. Executed by the Clarendon Municipal Corporation, with oversight and monitoring from the Planning Institute of Jamaica (PIOJ); its aims were to create employment and entrepreneurial opportunities through bamboo cultivation, bamboo usage, training, and production of bamboo by-products. This project also included the BSJ, whose approach to the development of the bamboo industry is 'standards-led, business-driven'; and UWI, who, through its Biotechnology Centre, was able to carry-out research into the propagation of bamboo, including the development of plant tissue culture protocols. The NHT supported the project through research in the use of bamboo in construction, and in this regard, funded the construction of Peckham's bamboo pre-processing facility which will soon be operational. The project was successful, and residents are now well-equipped to undertake plans to utilize their bamboo to develop their community. Already, they have made and sold bamboo charcoal, and are expanding into other products.

AGRICULTURE & TRAINING
The farmers of Peckham are very resourceful. In addition to permanent crops, such as citrus (e.g., oranges), and shorter-term crops, such as yam; they are very knowledgeable about bamboo and want to turn it into a source of upliftment for their community.
More than 80 young people from communities in and around Peckham, Clarendon, have been trained and certified in the production of bamboo by-products, including the infusion of bamboo in light-emitting diode (LED) technology. Farmers were trained in plant tissue culture, and together we trained each other to plant bamboo in the field.

BAMBOO – THE GREEN GOLD FOR THE FUTURE
Bamboo offers tremendous potential. The Bureau of Standards of Jamaica (BSJ), through the Bamboo Project led by Mr Gladstone Rose as Director of Special Projects (who has since retired, but is still active through the BIAJ), is producing many bamboo standards. The BSJ is responsible for producing Jamaican standards, which it does through multi-stakeholder involvement. These standards then guide local businesses to produce internationally recognized quality products. The BSJ bamboo standards that are ready for use by any business in Jamaica are entitled: 'Determination of physical and mechanical properties of bamboo – Part 1: Requirements' and 'Determination of physical and mechanical properties of bamboo – Part 2: Laboratory manual', 'Bamboo charcoal for air purification', 'Bamboo straws', 'Canned/packaged bamboo shoots', ''Furniture Part 2: Bamboo and indigenous furniture', 'Furniture Part 6: Laminated bamboo furniture', and 'Bamboo-structural design'. Want to make paper products from bamboo? BSJ has 32 paper standards that can be helpful. For all the standards listed above, and more, please visit the BSJ library.
Producing standards is a continual process and the following are in the pipeline: some are out for comments – which means anyone can submit remarks before its published ('Bamboo plantations' and 'Bamboo protective face masks'); others are at the committee stage ('Bamboo sticks for culinary purposes' and 'Bamboo woven products'); or will be adopted from ISO ('Bamboo vocabulary', 'Bamboo charcoal', 'Bamboo floorings', 'Bamboo structures – test methods and grading'). Anyone interested can become part of this standard development process (by contacting BSJ), or bamboo research (by contacting the Biotechnology Centre, UWI); while anyone wishing to make a business out of bamboo should also contact the BIAJ.

BAMBOO TRAINING OPPORTUNITIES
During this project, HEART/NSTA TRUST produced five bamboo training courses aimed at ensuring competency in bamboo harvesting and processing, bamboo ply technology, bamboo charcoal processing, bamboo shoots cultivation and pre-processing, bamboo coal harvesting, and bamboo culm harvesting and pre-processing. The syllabuses have been approved by the National Council on Technical and Vocational Education and Training (NCTVET) and will prepare persons for "immediate entry into the world of work". It is indeed comforting to know that a rural community can take such steps to utilize an indigenous renewable resource to drive the community's development; and that so many agencies of government and academia can rally to the cause. Indeed, the Bible admonishes us to "Ask that our joy might be full" (John 16:24), and also to "Ask, and it shall be given you; seek, and ye shall find; knock, and it shall be opened unto you". (Luke 11:9)
References
https://www.oas.org/FPDB/NATOFF/DOCS/2017%20OAS%20ACTIVITIES%20IN%20JAMAICA%20(FINAL)73.PDF
https://www.cepf.net/resources/final-project-report/final-project-report-1545
https://moey.gov.jm/heart-trust-nta-develops-bamboo-training-courses/
https://jamaica-gleaner.com/article/news/20200319/david-christie-using-bamboo-put-peckham-map
https://jamaica-gleaner.com/article/news/20171102/scores-trained-under-peckham-bamboo-projects