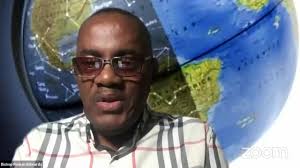 While senior pastor, Bishop Rowan Edwards, and medical doctor, Dr Alfred Dawes, agree on the existence of "dark spiritual practices" in Jamaica, both have differing views on what likely triggered the extra ordinary experience encountered by students at Oberlin High School in St. Andrew on Wednesday, October 26, 2022.
According to Bishop Edwards, who pastors the Lighthouse Assembly Worship Centre in St. Catherine, demonic forces were in "strong operation" in the students at the institution, but there were not enough persons on hand to assist with deliverance. Contrary to media reports which stated that a teacher was issuing a "word" when the incident happened, the clergyman said he was informed by school authorities that it was a student who requested permission from the teacher to address those in attendance at the devotion. He said the student started to "speak in tongues" after addressing the gathering.
"When she spoke in tongues, she disturbed something. The problem with Oberlin is that Oberlin did not have the staff to handle something like that," he told talk show host, Stokeley Marshall.
Both Bisphop Edwards and Dr Dawes were guests on the Love 101 talk show, Morning Watch, yesterday. The pastor believes some children are demon possessed because their parents dabble in witchcraft.
Dr Dawes had a completely different take on what likely transpired. He said the children's reaction could be as a result of "mass hysteria", a medical phenomenon where children, witnessing what is happening to others around them, start to display similar behaviours. In the case of Oberlin, there were reports of students falling to the ground and fainting.
"Basically, it is a disorder where it is a psychological phenomenon manifested as a physical symptom and it spreads across a group," he explained.
In making reference to the placebo effect in medicine, Dr Dawes alluded to the fact that most of the persons who had a reaction following the devotional exercise were actually females. He explained that females are generally more prone to mass hysteria.
Both Dr Dawes and Bishop Edwards have taken note of calls being made by some within society to take devotion out of schools, and they believe no attempt should be made to do this.
"Those persons who have an agenda of getting God out of the schools, they are using this now as fodder to feed into their ideas. I think it is wrong. I don't think it should be a question that we are debating at this point," said Dr Dawes.