New York-based businesswoman Simone Myrie Dawson knows all about faith and keeping her focus, and she will be the first to tell you that real faith is more than just believing in God alone. For her, it is acting on that faith in one's life by serving God and obeying His commandments.
It is because of this attitude that the nurse by profession has been able to succeed in the cosmetics industry. Her skin care product line, "Simmie," has been creating an impact and is now the line of choice for many.
Tracing her successful path, Dawson, who hails from Westmoreland, Jamaica, and migrated to New York, says she "stumbled" into the cosmetic business.
"My journey with beauty started when I got my first job in the medical field in NYC. At the same time, I realised that I had super-sensitive skin — after a 12-hour shift, I would go home with lots of redness and irritation on my face. That was really challenging for me," Dawson shared with Freedom Come Rain, noting that this became the catalyst to start her own skincare line.
According to her, she always knew she wanted to create something, only that 'something' was not clear until her daughter, Drupassion Winterjoy had terrible eczema.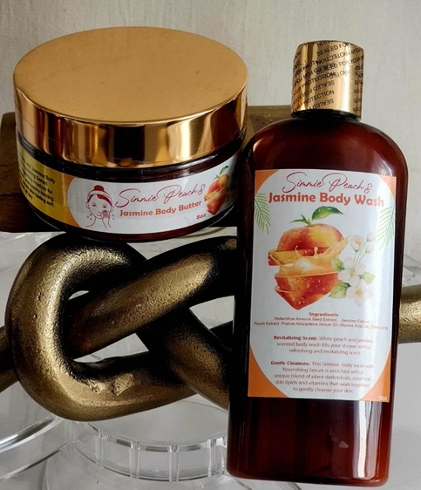 Driven with a desire to create not just a product, but something that had a social impact, she said she wanted a brand that could incorporate personal experiences as well as her passion in the products.
"I knew serving people with sensitive skin was going to be a core part of that, living in New York City, which is huge and has so much pollution, and I realised while I was doing research into skincare that air pollution and microdust were probably the main causes of my own skin concerns. That made me want to create products for other people living in cities," she shared.
Following more intensive research, Dawson fell in love with the many natural options that led to beautiful, healthy skin. She admits to also being repulsed at all the toxic, synthetic ingredients that the majority of large personal care companies use.
"The unnecessary chemicals they use have over time been linked to infertility, cancer, atopic dermatitis and a host of other illnesses!"
NATURAL INGREDIENTS
I decided that I would only make my products with natural ingredients like herbs, organic fruits, essential oils, superfoods, and organically derived ingredients to help alleviate the dependency on chemical-filled products that our communities are exposed to. The use of my natural skincare products has definitely given me a whole new respect for nature," Dawson quipped.
And with that conviction and a load of faith, Dawson set about utilizing high-quality ingredients, keeping it affordable so those who really needed it could still enjoy the benefits. According to her, it is all about maintaining quality while making the products accessible to consumers.
The first product she created, Simmie Organic Oatmeal Face & Body Soap for her eczema, was inspired by her daughter; that was soon followed by Simmie Tangerine Combo, inspired by New York City, one of her favourite places.
Among her other skin care line products are Simmie Hemp Soap, Simmie Mango Face and Body Butter, Simmie Brown Sugar and Coconut Body Scrub, Simmie's Jasmine and Peach Body Wash and Body Butter, and Simmie Papaya Skin Cream, which derives its inspiration from the land of her birth, Jamaica.
Looking ahead, Dawson said her ultimate goal is to improve people's quality of life and increase their self-confidence through her beauty products.
WHY THAT NAME, SIMMIE?
"I decided on the name Simmie Skincare because once I began making and using my own products, my skin became so radiant that it literally glowed and made me feel good and glowing. My skin has never looked better, and I hope that Simmie Skin Care can help you, too. "I believe that having beautiful, healthy skin will make any woman feel like the true beauty that she is," she says.
Now that she is well on her way to building her skincare dynasty, Dawson affords herself the luxury of looking back at the struggles, as carving her own path was not as easy as replicating the action. It's worth noting that when it comes to living the life you want, it's easy to talk about how important it is to do so for yourself, but it's much more difficult to talk about how to do it.
Powering her dreams, she shared, had to do with rather than waiting for them to be fully defined and "trusted," she focused on the fact that it was a frontier, trusting she would have gotten to her own destiny, and pushed ahead to make it happen.
For those who are afraid to take the plunge and pursue their dreams, Dawson has one simple piece of advice: "Keep your head up while navigating through this journey of life no matter the odds. Put God first in everything you do. Just remain passionate about whatever you are doing. Don't let that flame die out. Remain focused. Stay positive. Speak positively. Believe, encourage, all of those things work. It can be easy to turn cynical. You have to find the good and praise it."
Simmie Skin Care Beauty Products can be found on two of the largest eCommerce platforms – Amazon.com & Shopify.
Every good gift and every perfect gift is from above, and cometh down from the Father of lights, with whom is no variableness, neither shadow of turning, James 1:17