Entertainment personalities who have already "crossed over"
A major shakeup is coming for Jamaica's entertainment industry, and Christian artistes should be on the lookout to assist those who will be crossing over – after they have won the spiritual battle.
Apostle Steve Lyston, in his prophetic word for 2023, sees 2023 as a significant year, as the enemy already knows that many secular entertainers are about to hear some truths that will make them want to fight to be released from his grip.
"He has a plan to attack many of them with major health issues, significant losses, and serious family issues. Many of them will be called into accountability and some level of exposure of their hidden evil deeds will be brought to light. The Lord is purging the entertainment industry," he highlights in his prophecy.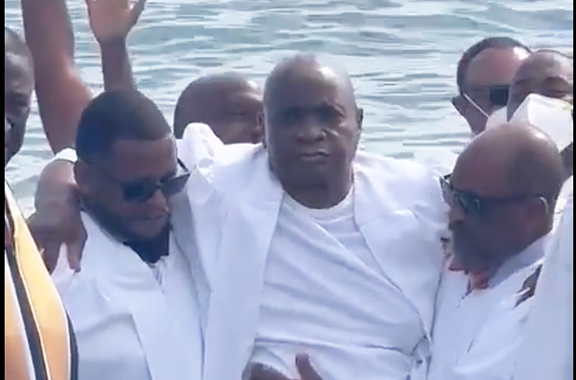 Last year started with a big shebang with Marion Hall (formerly known as "Lady Saw") and Grace Hamilton aka "Spice". Hall has turned her back on the dancehall and embraced Christ as her Lord and Saviour, and since then, she has been on the battlefield ministering via her social media accounts. Wanting to share what she has, she called out Spice and a few other female artistes still in the dance hall.
It did not go down well – Spice had some choice words for her via her own social media account. It became a full-scale brawl, with Marion Hall leaving many to wonder if she was going to step away from her ministry. We are happy she has held firm.
NOT A BAD YEAR
2022 has not been a bad one regarding the number of secular artistes who enlisted for God's army.
Lisa Hyper, previously identified with incarcerated deejay Vybz Kartel's 'Gaza' crew and Portmore Empire, was baptised – prompting Marion Hall to write on her social media page about the news, "from the dancehall to the Church Hall".
There were others who found their way into the 'church hall', for example Shaneil Muir, who hails from Flankers in St James. Muir, who had been experiencing 'several challenges' sees it as a sign that God wants her attention. She decided that it was now time for her to give Him His due.
Dancehall was not the only place souls were reaped as world-famous Calypso King Slinger Francisco, more popularly known as Mighty Sparrow, surrendered his life to Jesus at age 87 and was baptised in Queens, New York by Claudius Morgan – a Seventh Day Adventist Pastor from St. Vincent. Now known as Brother Fancisco and a member of the Linden Seventh Day Adventist Church in New York, the singer reportedly said after his baptism that there are some songs he may never sing again.
Broadcast icon Barry G also made things right with the Master. The self-proclaimed 'Boogie Man' was baptised at the Kirkham Baptist Church in George's Plain, Westmoreland.
These "crossover" artistes have joined those already making waves in Christendom, including Tyrone Thompson (Papa San), Chevelle Franklyn, Junior Tucker, Carlene Davis, and Jahmeil, who was baptized by Apostle Jeffrey Shuttleworth, one year after his near-death experience
As 2023 approaches, let's see the plundering of hell to populate heaven… entertainers roll call in earnest!